Honorary Professor Dr. Axel Adrian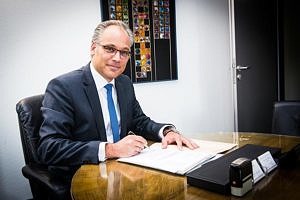 Person and Career
1969 born in Fürth
1975 School enrolment in San Diego Cal./USA
1989 Abitur at Hardenberg-Gymnasium in Fürth
1989 – 1994 law studies at the FAU
1994 – 1996 legal clerkship in Nürnberg and Ansbach
1996 – 1997 lawyer in the central legal department of Siemens AG
1997 – 2000 notary Assessor in Feuchtwangen and Fürth
2000 – 2006 notary in Naila
Since 01.04.2006 notary in Nürnberg
Since 2019 honorary professor at the University of Erlangen-Nuremberg
Homepage of the notary's office
Authorisation to teach
Legal theory and legal design
Academic Focus
Philosophy of science, theory of law, legal methodology, philosophy of law
Legal-Tech, in particular interdisciplinary questions of law and structural or computer science (logic, mathematics, computer science)
Constitutional law, electoral law, demography
civil law
On the following YouTube channel you will find some content about Legal-Tech:
Youtube
Staff
Postgraduate Ass. jur. Michael Keuchen
Research Assistant
E-Learning Coordinator for the Law Department
QuiS II TP08 "Digitalisierung der Lehre"
Service unit "Lehre und Studienberatung"
Friedrich-Alexander-University Erlangen-Nürnberg
–  Department of Law –
Schillerstraße 1, 91054 Erlangen, room 0.223
Phone: +49 (0) 9131/85-26360
Fax: +49 (0) 9131/85-22849
Email: michael.keuchen@fau.de
Research assistant Student Lukas Ehrlich
Phone: +49 (0) 163/6392090
Email: lukasehrlich@gmx.de
Previous teaching activities
Propaedeutic exercises in civil law.
Proseminars on the technique of examination processing, legal methodology, scientific theory and computer science (legal tech, legal theory and legal practice).
Seminar on the subject: Will the judge's machine judge soon? Interdisciplinary perspectives on "Legal-Tech" with Mr. Cevc, Prof. Evert, FAU, Dr. Flessner, Prof. Hofmann, Prof. Kohlhase, FAU, Prof. Mayr, Dr. Merdes and Prof. Nöth, FAU.
Lectures on corporate law
(with simulated authentication procedures).
Lectures on legal tech and on issues of artificial intelligence and legal decision making, as well as on how legal tech will change the way we work.
(with various guest speakers from Siemens, IBM, DATEV, Landesamt für Steuern, Autonomous Intelligent Driving, dem Höchstleistungsrechenzentrum Stuttgart und aus der Anwaltschaft, etc.).
Research projects/interests
Anonymization and pseudonymization of court decisions (with Prof. Evert, FAU)
Examination of contract clauses on BGH corpus (with Prof. Evert, FAU)
Digitisation of criminal prosecution of shoplifters (Prof. Kudlich, Prof. Noeth, both FAU)
Argumentation Mining for legal reasons (Prof. Kohlhase, FAU)
Ontologies and Legal Reasoning (with Dr. Cheptsov, HLRS -High Performance Computing Center Stuttgart- und Schönhof, IZS -Frauenhofer Institut Stuttgart)
Legal and Technical Possibilities of Internet Arbitration Courts in Germany – Comparison with the "Internet Court" in Hangzhou/China (with Prof. Gesk, University of Osnabrück)
Monograph:Grundelemente folgerichtigen Denkens (so far only working title, currently only in preparation)
Textbook: BGB der Suppenwürfel – Alles was ich im Bürgerliche Recht für das Examen wissen muss (so far only working title, currently only in preparation)
Events
Current Event SS 2020
The lecture "AI and legal decision making" will take place in principle only via Zoom (see link below) and NOT, as originally planned, each Thursday from 16:15-17:45 at the Juridicum at Schillerstraße 1, 91054 Erlangen, in the room JDC R. 1.282.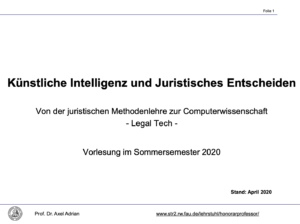 You can find the slides of the lecture here.
"Dear interested parties in my lecture,
enclosed you will find the URL of our zoom-meetings for the respective lecture
in this summer semester, always on the respective Thursday of
16:15-17:45, unless public holidays, etc., as in the
Announcement specified:
https://zoom.us/j/4962723955?pwd=eGNLeU1ueGs1aExMMTBQOS9PSEpmUT09
Please always use this link/the same URL to access the
lecture on the respective Thursday.
Please note that the lecture is available as video
is recorded in order to be able to transmit them later on the network
publish. Possible interposed questions from you as
Participants are recorded in sound (not picture)."
Guest speakers will speak:
9.7.2020
"Legal tech tools on their way into the legal profession"
Martin Kurtze, Siemens AG
16.7.2020
"How SZS and DIANA hunt tax evaders – Legal-Tech in the Bavarian tax authorities"
Hubertus Rust, Bavarian State Tax Office
23.7.2020
"Legal tech between hype and added value – a market view through DATEV glasses"
Dr. Tobias Wagner, DATEV eG
Last Event WS 2019/20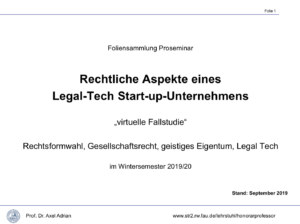 The presentation slides can be found here.
Upcoming Event
In the winter semester 2020/21 I will hold a pro/seminar on argumentation theory. The idea for this has arisen from the previous collaboration with the computer scientist, Prof. Dr. Kohlhase, on formalizing legal arguments with the help of the MMT Framework. The seminar will deal with topics such as whether the concept of argument can be defined at all, whether criteria for "valid" arguments can be defined, whether "convincing" arguments can be distinguished from only "persuasive" arguments, etc. Finally, philosophical references to e.g. philosophy of science and epistemology are also shown. How, for example, have the criteria of scientific testability changed from intuition, verification and falsification to the question of the rationality of arguments? Finally, references to symbolic AI and to the question of the possibility of representing legal arguments with machines will also be dealt with. The following topics will be assigned as seminar papers:
Das Aristotelische Fundament der Argumentationstheorie
Stephen Toulmin "The Use of Argument"
Chaim Perelman "La nouvelle rhétorique. Traité de l`argumentation"
Charles Hamblin "Fallacies"
Die Erweiterung der Logik in der Argumentationstheorie durch Trudy Govier und Christoph Lumer
Manfred Kienpointers "Alltagslogik" und die Rationalisierung der Rhetorik durch 60 Argumentationsmuster
Die Präzisierung der Fehlertheorie durch John Woods, Douglas Walton und Eric Krabbe
Deppermanns empirisch sprachwissenschaftliche Analyse der Argumentationen
Die gegenwärtige Argumentationstheorie nach dem sog. "Amsterdamer Ansatz"
Der Begriff des Arguments nach Harald Wohlrapp
Die Formalisierung juristischer Argumente zur Verarbeitung mit Maschinen
Juristische Argumentation und die Idee des Cognitive Computing von Kevin D. Ashley (AI and legal analytics)
The Aristotelian foundation of the The course is particularly aimed at students in the first four semesters. Special previous knowledge of argumentation theory, legal methodology or philosophy of science would be helpful, but is not expected. Introductory notes on the contents of the respective topics as well as information on introductory literature will be given in the course of the first dates and also especially during the allocation and preparation of the topics.
SS 2019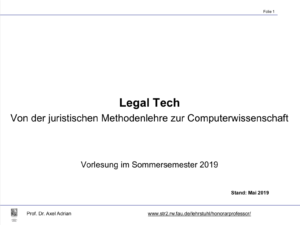 The presentation slides can be found here.
WS 2018/19
Other
Examiner in the oral first state examination for civil law and for the bachelor's programme.
Member of the board of the Digital Tech Academy der FAU.
Publications (Status 2018)
Dependent publications
Juristische Methodenlehre und die "Keck-Entscheidung" des EuGH, in: Europaisches Wirtschafts- und Steuerrecht 1998, p. 288 ff.
Die Nailaer Demografie-Tage – Ziele, Inhalte, Bilanz und Perspektiven, in: Der demografische Wandel in der Grosregion Luxemburg 2005, p. 263 ff.
Der Wettbewerb der Kommunen in der demographischen Schrumpfung, in: Der Bayerische Burgermeister 2005, p. 290 ff.
Wie wissenschaftlich ist die Rechtswissenschaft? – Gibt es eine bindende Methodenlehre?, in Rechtstheorie Heft 4/2010, p. 521 ff.
Der demografische Wandel, Wir schrumpfen und altern, in Datev Magazin 2012, p. 8 ff.
Erben über Grenzen, Deutsche Erbschaft im Vereinigten Königreich, , in Datev Magazin 2013, p. 22 ff.
Sicher auf neuem Terrain, Haftungsfragen rund um die Testamentsvollstreckung, in Datev Magazin 2014, p. 12 ff.
Berliner bleiben, Vererbung, in Datev Magazin 2/2015
Populär aber tückisch, Das Berliner Testament, in Datev Magazin 4/2015
Der Richterautomat ist möglich – Semantik ist nur eine Illusion in Rechtstheorie Heft 1/2017, p. 77 ff.
Besteht eine Rechtspflicht zur Einführung eines Wahlrechts ab Geburt? In frühe Kindheit Heft 6/2017 (Jubiläumsheft von Liga für das Kind 2017), p. 28 ff.
Ist ein Wahlrecht ab Geburt rechtlich möglich? In Rechtspsychologie (RPsych) Heft 1/2018, p. 8 ff.
Besteht eine Rechtspflicht zur Einführung eines Wahlrechts ab Geburt? In Rechtspsychologie (RPsych) Heft 2/2018, p. 208 ff.
Juristische Methodenlehre – Ein Vorbild für verantwortungsvolle Digitalisierung?, In Verantwortungsbewusste Digitalisierung, Tagungsband des 23. Internationalen Rechtsinformatik Symposiums IRIS 2020, Hrsg. Erich Schweighofer/Walter Hötzendorfer/Franz Kummer/Ahti Saarenpää, Bern 2020
Independent publications
Das kleine 1 X 1 der Aktiengesellschaft, Schriften und Arbeitspapiere der IHK Nürnberg für Mittelfranken Nr. 151/00, 3rd edition. 2006
Grundprobleme einer juristischen (gemeinschaftsrechtlichen) Methodenlehre, Duncker & Humblot, Berlin, 2009
Grundzüge einer allgemeinen Wissenschaftstheorie auch für Juristen, Duncker & Humblot, Berlin, 2014
Grundsatzfragen zu Staat und Gesellschaft am Beispiel des Kinder-/Stellvertreterwahlrechts – Eine rechtliche Untersuchung mit Bezügen zu Demographie, Demoskopie, Psychologie und Philosophie, Duncker & Humblot, Berlin, 2016
Records
To what extent is artificial intelligence already being used in the legal market? Are there any differences to the American legal area? What role does the availability of judgments play and how sustainable are we? How secure will the jobs of lawyers be in the future?
Video interview with lawyer Tom Brägelmann by notary and lecturer Prof. Dr. Axel Adrian.